Classic Car Restoration & Body Shop
Our Services
Classic car restoration

Muscle cars
Hot rods
Street rods
Rat rods
Resto mods

Foreign and domestic

Fiberglass repair
Rust repair
Dustless media / sand blasting
Contact us for a quote or to make an appointment.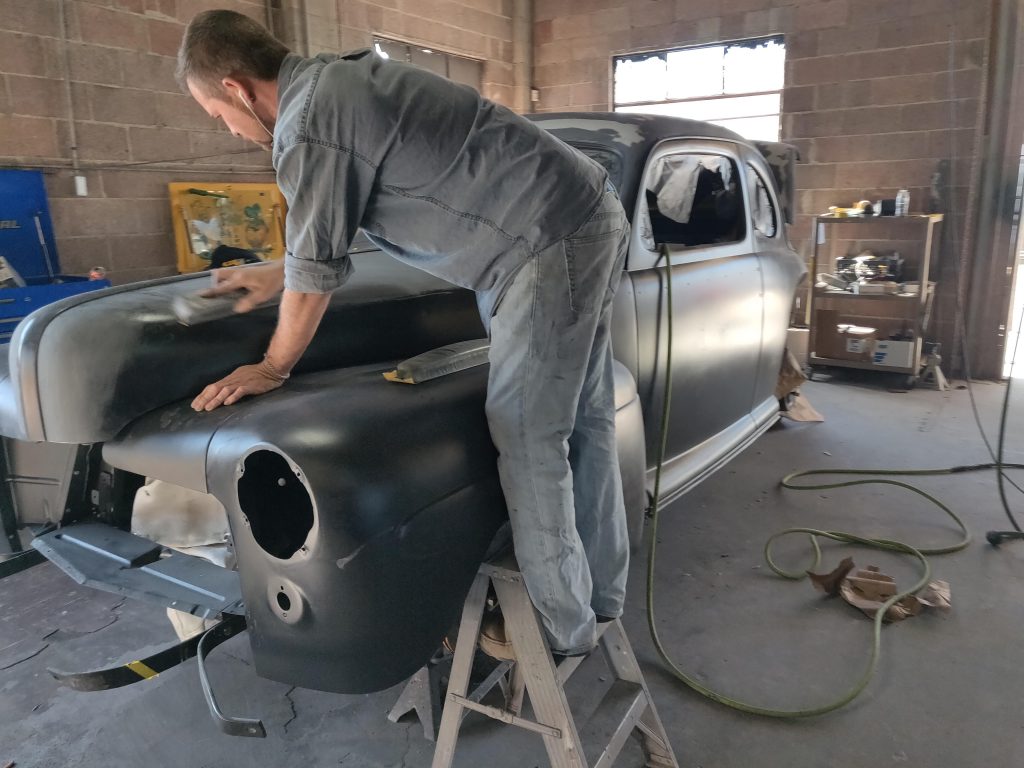 The Build Process
Phase 01
Review options for your build.
Disassemble, tag, and bag all parts.
Phase 02 – Fab Shop
Prep car for media blasting.
After blasting, clean all surfaces and epoxy. This will be your blank canvas to see what can be repaired or needs replacing.
Order all replacement parts or sheet metal for fabrication.
Sheet metal work. Cut and remove all rust areas.
Frame. Blast and paint or powdered coat.
Mechanical department: Drivetrain. Test fit new components to engine bay.
Reassembly of chassis.
Phase 03 – Body Shop
Initial body work.
Body gaps and fit. Line shaping and pre-fitment of bumpers, chrome, and other exterior components.
Final body. Block sanding and final sealer/primer.
Phase 04 – Paint Shop
Painter's block. Wet sanding and final inspection.
Prep time. Disassembly, repositioning, and masking for paint.
Show time. Base coat and clear coat.
Polishing and buffing.
Phase 05 – Assembly
Place body on the chassis and assemble all body sections.
Tech time. Electrical wiring, install interior, dash, stereo, AC, and miscellaneous interior trim.
Phase 06 – Performance Time
Powertrain, drivetrain and accessory drive systems final installation and tuning.
Custom exhaust.
Test and tune.
Phase 07 – The Punch List
Final adjustments, initial road test, and preliminary reveal/client test drive.
Ready to get started? Contact us today!
Restoration Terms
Frame-up restoration: These restorations are from the frame up. We rework the body, interior, motor, trunk, and paint replacing only those parts on the frame that need it.
Frame-off restoration: Here, the entire car is replaced or rebuilt. The body is removed from the car. The Frame is inspected, and all parts are replaced, repainted, or powder coated. All parts on these cars will look new. Due to the cost associated with frame-off restoration, these cars often require extensive care and cleaning and are rarely driven.
Resto-mod: This is a classic car that has been restored and modified using modern parts and technology. Aesthetically, the vehicle will look the same from the outside.
Rat rod: "A rat rod is a custom car with a deliberately worn-down, unfinished appearance, typically lacking paint, showing rust, and made from cheap or cast-off parts."
In addition, the parts on a rat rod might include non-automotive items which have been repurposed. For example, an old saw could be a sun visor, wrenches could be used as door handles, and a rifle could be used as a gear shifter. A rat rod will show a good deal of personality based on the imagination of the builder.
(The rat rod style shouldn't be confused with the traditional hot rod style. Traditional hot rods are period-correct or accurate re-creations of hot rods from the 1940s, 50s, and early 60s.)